0
GREAT NEWS!
...we are rolling out several AMAZING new features...
So do not wince because the market dipped, stay the course!
HousingAlerts Now Has MLS DATA!
You can now get a feel for the real property listings going on right now, every month!
See how many and even how fast properties are moving in your markets so you can grab the deals first!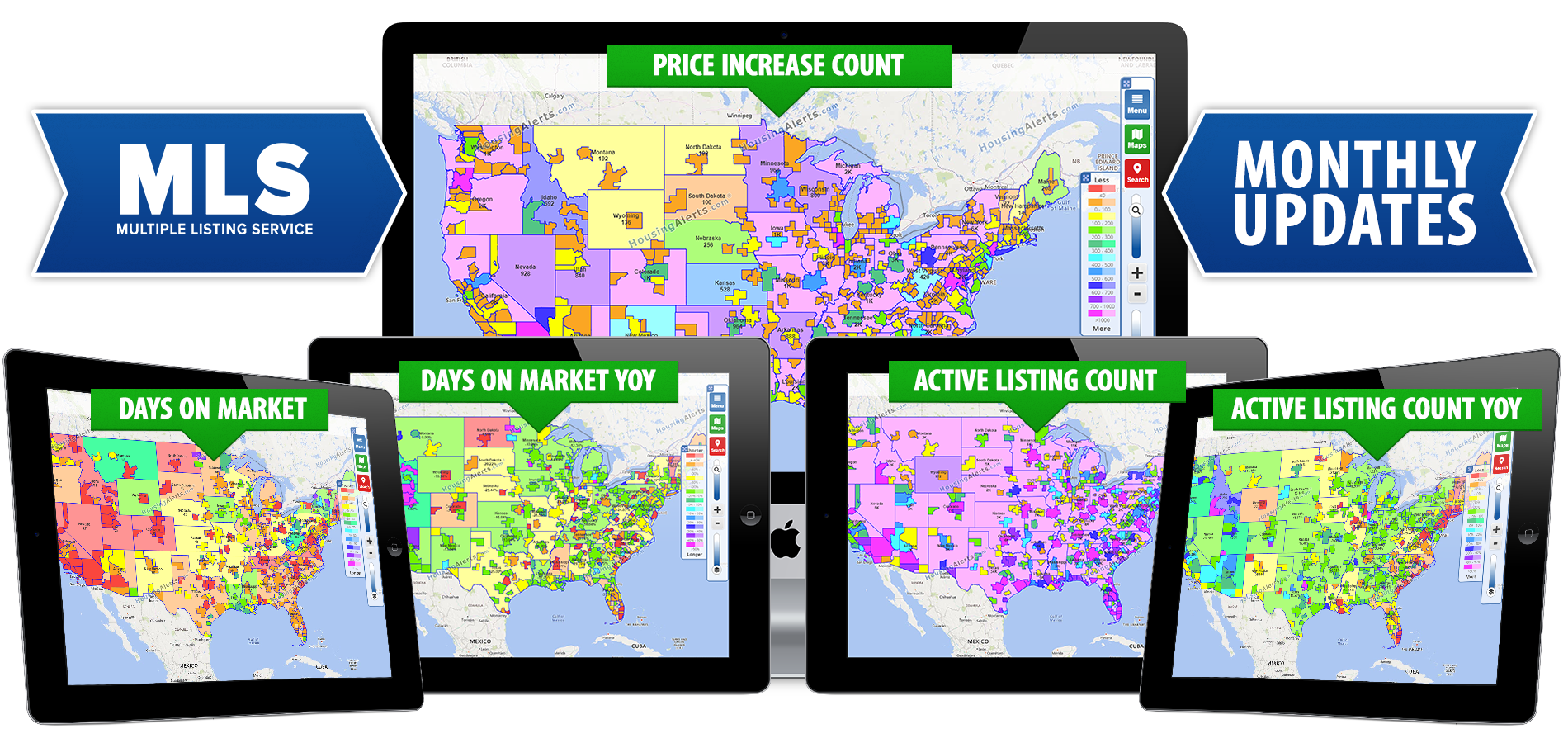 Not yet a HousingAlerts.com subscriber, no better time than now to join!
Median Days on Market (Through June 2022)

The preponderance of red, orange and yellow color means houses are still selling quickly by historical standards. Before the pandemic it was virtually unheard of for so many markets nationwide to experience such a low number of days on the market before selling.

Seeing all this red, orange, and yellow is NOT normal. Homes have been selling extremely fast.

Median Days On Market (Through June 2019)

As a baseline so you can see what an exception the currently 'red' map is, here's what the month of June looked like before the pandemic – back in 2019

This is what a more "normal" June looks like – with a mix of "hot markets" – those in red, orange and yellow showing FEWER days on market, while other markets in pink and purple taking longer to sell.

Median Days On Market – Year over Year (YoY)

Here's where it gets more interesting... Let's look at a COMPARISON of the same Median Days on Market map except now we're looking at the 1-year percentage change.

Remember at the end of June most markets were still the hot colors – the reds and yellows – not on the market a long time before they sold ... well this map shows the PERCENTAGE CHANGE in the median days on market from a year ago.

Even though properties are still selling "quickly" by historical standards, you can see the start of a slowdown... not so much red in this map – but increasing pinks and purples – which means it is taking LONGER this year for properties to sell compared to last year

The "Days on Market" are getting longer.

Price Decrease Count YoY

This map shows the percentage Increase (in pink and purple) in the number of price decreases occurring for last month compared to the same month a year earlier.

Price decreases occur when the selling homeowner and real estate agent agree to lower the list price, typically because the property isn't selling. An increase in the number of price decreases generally signals weakening market conditions.

You can see by the preponderance of the "weak market" pink and purple colors, and the lack of 'hot market' red and yellow colors that this most recent map is very telling.

There is a large increase in the number of properties currently on the market that are experiencing price drops compared to a year ago.

# of Months Inventory

Another indicator we watch is the Number of Months Inventory for sale. The current map is showing mostly red and orange, which means there is less than a 2-month supply of homes available. This extremely low level of inventory has been the primary driver of the strong market we've seen over the past 2 years.

# of Months Inventory (YoY)

When you look at the CHANGE from a year ago, you begin to see a different picture of the market; the number of months inventory is starting to grow, especially in a lot of the previously red hot mountain states.

Inventory is growing and it's affecting different markets differently.

You can see the trend in the mountain states from across the room. See the pink and purple? ... that is warning you of a coming increase in inventory.

Active Listing Count YoY

Another metric we look at are the number of Active Listings on the market and if that number is rising or falling.

An increase in listings can mean sales of existing listings are slowing and/or more sellers are putting their properties up for sale. Either way, it generally means 'for sale' inventories are growing and a slower market could follow. We need to keep a close eye on it.

Here's how things shaped up at the end of June...

Once again, you see more pink and purple taking over the map meaning a significant increase in the number of listings. The 'hot market' reds and yellows have all but disappeared from this map.
We did not stop there...
We have now added an entire new TRAINING course to our system!
This was a great collaboration between Ken Wade, JP, and Christine. Wherein they run through the real-world practical application of HousingAlerts in this training series entitled MicroMarket AI Training.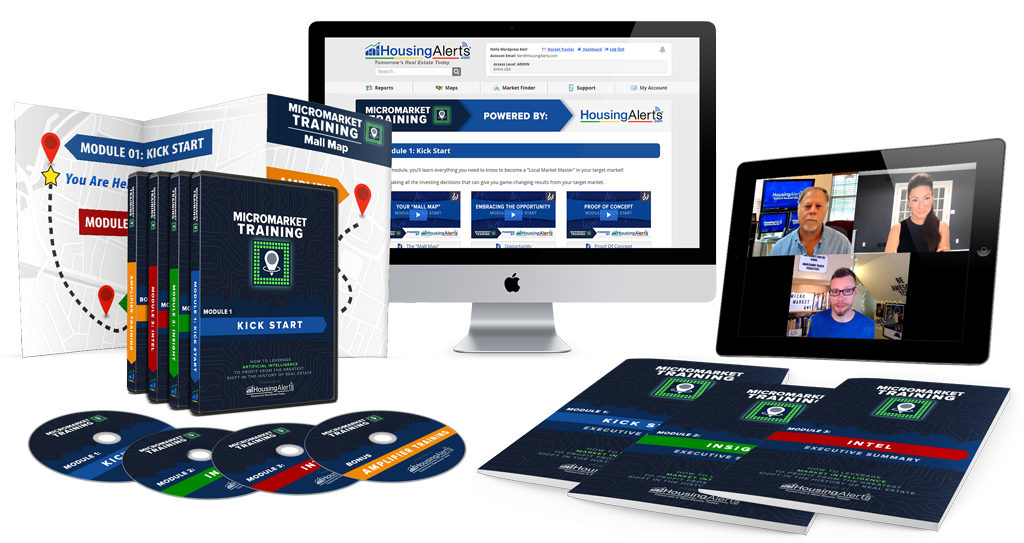 Only HousingAlerts.com can tell you if your market is in a wealth-building phase. Not a boast – it's what we do!
Only the top-secret AI at HousingAlerts.com can unleash the awesome power of Technical Analysis on your real estate investing decisions.
Technical Analysis is the same secret sauce every major investment bank and hedge fund uses to kill it on Wall Street.
Now TA is available to real estate investors willing to invest as little as $29 a month to become a Viking-level ransacker of your chosen real estate market (or markets).
If you've invested blindfolded up to now, HousingAlerts.com can be your map out of the minefield.
Don't Wait, Join TODAY!
To your success,


Ken Wade
HousingAlerts.com
P.S. Go here now to make every Real Estate investing decision easier, less stressful and less panic-driven.
P.P.S. You can get started with one city for the cost of Netflix. Joe Exotic isn't going to put your kid through college or help you retire early, but smarter Real Estate investing could. So what are you waiting for?
See what some of our members have to say about HousingAlerts:
Watched It Twice!!
Thanks. I have watched this twice to fully retain for better/future investing. Wish I had read this back in 2008 when I lost many hundred thousands.
The RIGHT Path To Wealth!
I was one of those who has purchased countless real estate courses over the years - only to become more confused with each 'new' angle! Your examples of 'what to do, when' were so perfectly logical and simple to comprehend, I can't thank you enough!! You have just saved me lots of money and time by putting me on the RIGHT path to wealth!
Empowering!
I thank you for the knowledge your training has exposed me to. I feel that you have empowered me by putting real estate investing in proper perspective. I'm looking forward to using your program. Please keep me in the loop.
Unlike Anything Else!
Great tools unlike anything else. This lets you keep your finger on the pulse of your local market to determine its current health. Nice to have an early warning system.
Terrific System
I really like the way the system can alert when to buy and when to sell to help increase my net worth. Thanks again for a great education. Using the green, yellow and red buttons helps for easily understanding strategies.
Great Tools For Investors!
What great info. The tools in this program are sure to make anyone who can see colors or follow arrows, a successful investor. I'm looking forward to the updated and new tools.
Must Have Tool For Investors!
HousingAlerts is a must have tool for investors. The program synthesizes an enormous amount of data and presents it in an easy to understand graphic format. I particularly like the by-zip-code appreciation rate information. It allows my company to strategically target our acquisition marketing dollars in support of our fix and flip business. The quality is equally matched by a knowledgeable and friendly support staff.
Impressive Tools
Gentlemen; the finest presentation of R.E. Investment tools I've seen. And when you consider I go back to the days of Robert Allen, "Nothing Down" that's saying something...
Great Information
Wish I knew about this years ago. It's very interesting an exciting to listen to someone who knows what they are talking about. Looking forward to joining the webinar.
Thank You For This!
I just wanted to thank you for giving this information to so many people/investors. I am sure there are quite a few persons who will take your advice to heart! I am one of them for I cannot afford any more losses from any market!
Outstanding Training For Investors!
Ken: I really enjoyed the training. I have been looking for this kind of information for years. I have not been able to find anyone who teaches or understands the indicators that drive the market up or down. Most people know Real Estate is cyclical but have not found anyone teaching this kind of information. I am really grateful to you for making this available. I have been investing in real estate since 1974 and have been lucky to invest in markets that were appreciating.
Excellent Training For Beginners!
I believe this is the most important aspect and method of investing the smart and only way to maximize wealth building. As a beginner in the Real Estate business I look forward to many new doors opening and someday being financially stable... Thank you
Exactly What I Needed!
You have given us a gem and I now have in my hands the key to action. I have less of the fears as a new investor and have more confidence as a seasoned investor with this system.
Impressive System and Service!
I called inquiring about your service in early May. I spoke to Leanne who was very pleasant and eager to help answer any questions I had. After speaking with Leanne, I signed up for a month. I was impressed with all the data and information available to me and I was even more impressed at how available Leanne was at answering my questions. I just paid for 3 years of service... and I have to say, Leanne was the reason I did so. She made me feel extremely comfortable knowing that this was going to be a long-term venture with your company. I look forward to the upcoming data! Thank you.
Love It!
Best real estate training I've ever seen, and I have paid for a lot of expensive work-shops and webinar training.
A Game Changer
Very educational and it's easy to see that you know what you're talking about. Like you said the Guru's only care about selling products. This is a game changer and I most definitely want in.
Thanks For This Opportunity
Great info, can't wait for the webinar. We are investors in Volusia county staying close to home but realize we need to grow. Always learning to become better at the game and look forward to your wisdom.
Captivating System
Fresh and fascinating twist to a discredited real estate market. It's clear that this analytical but instinctively straight forward approach debunks the traditional mumbo/jumbo we've been sold on.
Exceptional Wake Up Call
Absolutely necessary food for thought if you are a serious investor. This wakeup call is exceptional. Thank you!
Highly Recommended Training!
Great information on real estate. I have learned so much from your wealth of knowledge. Looking forward to learning a lot from your webinars. Thanks for your being so liberal with well needed facts in real estate.
Every Investor Needs To See This!
I was involved with Housing Alerts when you first launched it several years ago. Since then I have been studying TA and I think you are right on. Being one of those investors who made a lot and lost more, I wish I had paid attention to this type of information versus working so hard and not seeing the forest because of the trees. Thank you for sharing your videos and insight for all of us to see.
Glad I Found This Program
Thank you for this critical information. It is by far the most comprehensive information I have encountered. I would like to hear more from you. I find myself having to start all over again for my retirement years. I find myself hopeful once again.
Candid & Insightful
Thank you Mr. Wade for the very straight-forward real estate webinar... which saved me many days of wasted dead-market investments.
Exciting & Revealing Program!
I've worked in the real estate industry for 30 years, basically a transactional broker, this program is exciting and reinforces my beliefs regarding real estate investing. The videos also break some long-standing investing rules which, frankly, needed to be broken. Good stuff. Thanks!
Don't Invest Blindfolded
I only wish I had access to your video training back in 2006 through 2008 before I invested blindfolded and lost all my 8 rentals, including my primary residence. I am excited to learn more of your system!
Don't Pass On This Opportunity
I'd like to say that this information and these tools are invaluable. As a Real Estate investor of 35 yrs. I can tell you first hand that my life would be remarkably different right now if I had these tools prior to the last 2 market crashes here in Florida. I spent most of my life building wealth in real estate only to be totally ruined, completely wiped out. The fact that I now have these tools and the amazing support of Ken's staff, Leanne being who I've dealt with is absolute confirmation that my R.E. investing life will turn around!!! Kudos to his support staff for always being there.
Superb Content!
This is superb content, and it will definitely help me in my REI pursuits in my markets.
Amazing Training – Thank You
I just wanted to say this is a great program you have created and I am glad to find this information before buying into all of those seminars. All those get rich seminars tell you the how to, but don't tell you whether it is the right market to use their product. Thank you for these amazing videos.
The Real Deal
Thanks for yet another straight forward video. No fluff and not too repetitious. I too am in my 50s and need accurate info quick. I am done playing with the knee jerkers, the one shot wonders and flavor of the month gurus. You are the real deal. Keep it up.
Priceless investing tool.
I have used housing alerts to help manage my small real estate company. Using the data helped me choose Nashville TN as a thriving market. I live in Phoenix, AZ. I select strategies based on realistic return on investment, how much work I will need to do and what I enjoy doing. I set up a team in Nashville and we have done four deals: three flips and a vacation rental property. The returns have been great. Everybody is a genius when the market is going up. HousingAlerts is data dependent. Now that Nashville is slowing down I used zip code data for Phoenix to find rental properties. Thanks to about 20 good deals I was able to spend several hours every day researching who and what would help him and it has worked for him that you might not even know he was ever diagnosed. That is the priceless contribution effective investing can make to you life. Before Housing Alerts I had made some poor choices, and with the good data sold out of non-appreciating areas and put money to work more profitably. Those dark days when I relied on news articles are fortunately behind me.
Invaluable Program!
I began exploring REI mid-2016 and am now beginning to make offers on property I will flip. My second phase will be to create cash flow by keeping properties. That's where your program becomes invaluable by knowing where to buy properties and when to move. Most all things change while most of us don't. Thank you.
Get the Intelligence You Need!
For me, the first win was in using HousingAlerts in my local Market to see whether a fix and flip was a good idea. The big question was: should I sell my home and rent or should I sell my home and then flip a home? Housing Alerts gave me the intelligence I needed to make that decision and it turned out to be a great decision. The second win has been with real estate investors. I am a Realtor and like to have the best data that is available. That way, I am able to tell my clients which markets are the hottest and which are showing signs of changing. This has helped me advise an important investor and add an additional investor. And I have no doubt it will continue to prove beneficial going forward with my own real estate investing. This Housing Alerts data and system is incredibly valuable to pick a winning market to invest in.
Great Investing Advice!
This is great information. I am an Investment Real Estate Agent in Virginia and I have taught many investors how to make money from buying and selling properties. This is great advice. I am glad someone is talking a different tune and not just selling the CD's etc. Good advice is hard to get…..so listen up as this is important information.
No More Guesswork!
This scientific approach takes the guesswork out of real estate investing. It inspires confidence to take action – when to get in, and when to get out without any sweating.
This is Eye Opening Content!
Knowing market phases in real time, local market indicators, total market master, will let a person make money in their own up market and when that goes, go on to another up market! Good job Ken!!!
Perfect for Local Markets!
I am a Realtor Investor. Thank you for providing this useful information. It makes sense. I will definitely use the information in my REI pursuits in my market here in Southern California.